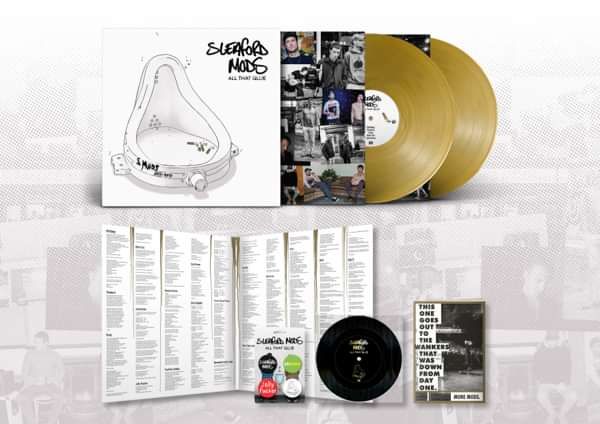 ALL THAT GLUE 2LP (GOLD VINYL) – webstore exclusive
Released 15 May 2020
All That Glue; two discs of crowd pleasers, B sides, unheard tracks and rarities released via Rough Trade.
Limited edition double gold vinyl includes a 16-page A5 booklet (written by Jason) documenting the band's inexorable rise from the gutter, together with some kind words from the incomparable Iggy Pop, as well as an exclusive flexi disc featuring the first-ever (and until now unreleased) recording 'All That Glue'.
One pressing. When it's gone, it's gone.
As if that's not enough, the first 1000 physical pre-orders will receive Sleaford Mods goodies – badges, bookmark and stickers – while stocks last.
TRACKLISTING McFlurry Snake It Fizzy Rich List Jobseeker Jolly Fucker Routine Dean Tied Up in Nottz Big Dream Blog Maggot Tweet Tweet Tweet Tarantula Deadly Cargo Fat Tax Slow One's Bothered Revenue Rochester TCR Reef of Grief B.H.S. Second OBCT When You Come Up to Me
Want more? Head over to YouTube where we've released footage from last year's sold out Hammersmith show. It's fucking great!